Feb
28
Fri
Weekly Event: Karaoke Night 🎤🎤🎤
Feb 28 @ 5:00 PM – 10:00 PM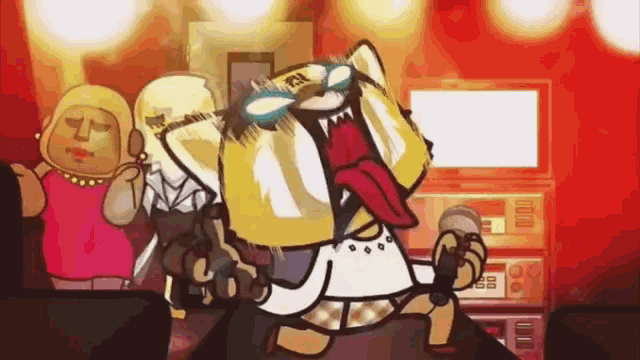 Unwind after the first Friday back from Reading Break by belting out your sorrows and tearing up the microphone at our classic weekly activity of in-house karaoke. Remember, if it's available online, you can sing it with us and other like-minded weebs who probably like the same music you do!
Schedule:
5:00 PM – 6:30 PM: Showings (A201), Artist Meetup (B209)
6:30 PM – 7:00 PM: Dinner Break
7:00 PM – 10:00 PM: Karaoke
Showings: ID: Invaded, In/Spectre, Eizouken
When: Friday, February 28th, 2020, 5-10PM
Where: BUCH A201 (Showings+Weekly Event), B209 (Artist Meetup)
Feb
29
Sat
Daigakusai 2020: A Time To Remember – Anime Club Collab
Feb 29 @ 2:00 PM – 10:00 PM
Your favorite University Anime Clubs have reunited for another Daigakusai! This year, we're celebrating the Leap Year with a Time Travel themed event, so come join us on Saturday, February 29th, at BCIT SE 2, from 2PM to 10PM as we travel back in time and reminisce on the last several decades of anime. We'll have various games and activities to test your boomer knowledge in anime, as well as a chance to win some amazing prizes!
Cosplay is encouraged, and you do not need to be a student from any of these schools to attend, so bring a friend! This event is brought to you by the UBC, BCIT, and SFU Anime Clubs!
We will have a $5.00 opt-in fee for food if you are interested!
==Location==
BCIT Burnaby Campus
Building SE2 – Great Hall
==Raffle Tickets==
+1 for attending
+2 for clicking GOING on Facebook by Midnight, February, 28th
?? More raffle tickets can be won by participating in our scheduled games!
==Prizes==
TBA 👀👀👀
==Schedule==
2:00 – Opening ceremony and Scheduled Activities Begin
4:00 – Side Activities Open Up (Karaoke, Consoles & Board Games, Jackbox, Trivia, etc.)
6:00 – Group Photo, Raffle, Dinner
6:30 – End of Scheduled Activities, Free Time
10:00 – Event Ends
Hope to see you there~~~ 😘
Mar
6
Fri
Weekly: Soho Food Outing

@ Soho Tea Room
Mar 6 @ 7:30 PM – 9:30 PM
By next Friday, March 6th, the candidates for UBC Anime Club 2020-2021 executive team will be confirmed. Now's one of your last chances to acquaint yourself better with execs, new candidates, and fellow members alike at Soho Tea Room before the executive election at the Annual General Meeting on March 13th! Soho is a UBCAni food outing staple that specializes in bubble tea and both sweet and savory Pan-Asian food at affordable prices, so eat your fill!
Schedule:
5:00 PM – 6:30 PM: Showings (A201), Artist Meetup (B209)
6:30 PM – Meet at UBC bus loop and commute together.
Showings: ID: Invaded, In/Spectre, Eizouken
When: Friday, February 28th, 2020, 5-10PM
Where: Soho Tea Room, 3466 Cambie St, Vancouver, BC V5Z 2W8, Canada
Please fill in this Google form and RSVP so we can ensure you a seat!
https://forms.gle/KcZe1PiWSMr4vdZn9
Facebook Event: https://www.facebook.com/events/482729045945829/